The Institute of Civil Funerals is the only organisation dedicated to funeral celebrancy, the oldest celebrant body in the UK and the only one with professional Institute status.
Our unparalleled support for bereaved families and the celebrants who care for them is based on experience since 2004.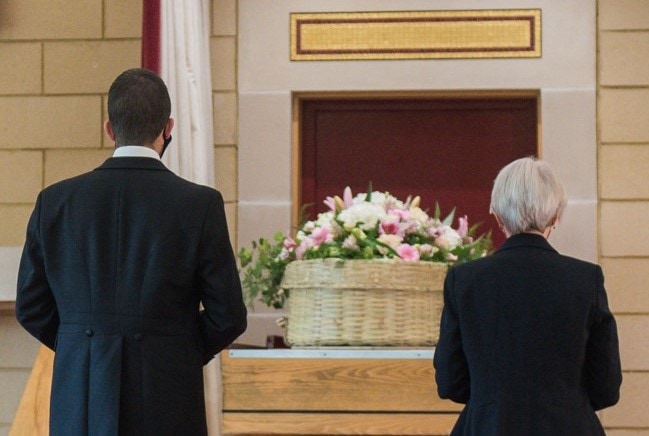 The Institute of Civil Funerals is a vibrant, supportive membership organisation for funeral celebrants who are committed to achieving high standards.
We are the only organisation dedicated to funeral celebrancy and the only one with professional institute status.
Since our inception in 2004 we have been proud to have the motto "setting the national standard."  We passionately believe that civil funeral celebrants should create and deliver a unique, personal funeral ceremony each and every time they are asked to do so.
Our desire to ensure our members are the best in the funeral industry means we have high expectations when it comes to joining us; we are not an organisation that will simply take someone's money just because they've offered it!  Our focus is on quality of membership, not quantity.
For that reason, only those who have gained the NOCN Level 3 Diploma in Funeral Celebrancy within the last year gains you automatic entry into the Institute, we just ask to see your certificate.
The Level 3 Diploma in funeral celebrancy is the highest qualification; this can be studied through various UK organisations.  You will also be asked to confirm that you agree to our other quality standards.
We will support you in all aspects of being a funeral celebrant.  Among the many benefits of being a member are:
Public Liability and Professional Indemnity insurance (this is not availabe for our overseas members);
Handling of feedback and complaints;
Representation on other bodies such as the National Association of Funeral Directors (NAFD), the National Society of Allied and Independent Funeral Directors (SAIF) and Funeral Celebrancy Council (FCC);
A personal mentor for the first year of membership;
Your personal webpage on the Institute website;
Access to inspiring and creative members-only resources on the website;
Membership of our closed Facebook group where you can find friendly support, professional debate and discussion of best practice;
Regular training webinars;
The opportunity to promote yourself through our social media;
A national weekend conference held every two years;
Full-time office staff who can guide you to the best support whenever you need it.
More details will be sent when you apply to join.  Please read them carefully to make sure that you are ready to accept the high expectations we have of all our members.
If you have any questions please call our friendly administrators, Wendy and Su, on 01480 861411.  Alternatively, email admin@iocf.org.uk.
Join Now
Apply to become a member for an annual fee of £276 (payable either in one lump sum or the option to pay £23 per month) plus a one-off £50 registration fee for new members.
Public Liability and Professional Indemnity Insurance (covering every type of ceremony) for those with UK membership not overseas membership.
Promotion through all funeral industry journals, trade magazines and national newspapers. Promotion through trade exhibitions notably the biennial National Funeral Exhibition and through our associate membership of NAFD and SAIF.
Promotion through our website map and individual profile pages. Access to website Members Area for resources.
10% discount on specialist further training courses delivered by CCL.
Continuous Professional Development via script assessment and peer review.
Client feedback collected and returned to members, can be used as testimonials.
Membership of our private Facebook and Twitter groups for discussion and mutual support.
Members regular newsletters with news and views.
Professional email address available @iocf.org.uk.
Biennial Conference and annual Seminar days.
Membership badge and ID card.
Able to have business cards under the IoCF logo.
IoCF stationery items – notepaper, business cards and leaflets.
Use of the professional post nominal MICF;
Use of the IoCF logo on your business materials;
Free IoCF branded promotional items.
Yes we do. 
If a member has paid their yearly membership in full and leaves during their membership year a refund will not be given. Likewise, a member paying their subscription monthly who leaves during their membership year will be invoiced the amount outstanding on their yearly subscription.
Civil Funerals will always be conducted to the highest possible standards of delivery and appropriateness and will attempt in every way to reflect the needs and wishes of the client.
A Civil Funeral will be based, wherever possible, on a face-to-face meeting with the client, which will normally be held at the client's home. Members should leave details of intended home visits with a relative or colleague in advance, for security purposes.
The Member will base the tribute on factually correct information and will, therefore, normally draw on more than one source of information. Members will regard the seeking of information from friends, colleagues etc as normal.
Members of the family or personal circle of the deceased will always be encouraged to participate.
Members will use their interviewing skills and literary ability to win the trust of clients and set down, in appropriate and correctly composed English, a text which celebrates and/or reflects a life with integrity and accuracy.
A Civil Funeral may include religious material if requested.
Members will not conceal the number of funerals they have conducted but will refrain from telling clients' details of other funerals they have conducted.
Civil Funerals will always be delivered from a full written text which will include any contributions from others. A copy of the full text should be shown to the client to check before the funeral.  A presentation commemorative or keepsake copy will always be offered to the client after the funeral ceremony.
At cremations, the Member will provide the relevant chapel staff with a music cue sheet, enabling the prompt and correct use of music during the ceremony.
Members will follow social custom in dress for formal occasions but dressing wholly in black is not required as a matter of course. Clients will have the option of requiring the Celebrant to dress in black or any other colour of family choice.
Members can arrange with the Funeral Director the order in which the Celebrant, Funeral Director, coffin, family group and guests enter the chapel or process to the graveside.
Members will not use their access to clients to promote products or paid services in any other occupation or other interests, philosophies, religious or other beliefs or voluntary commitments they may have. Neither will Members who also work in Register Offices, or have other similar roles, use their position to promote Civil Funerals.
Members will seek to establish and maintain good working relationships with staff of their local crematoria, local cemeteries and local Funeral Directors.
Members will be punctual when meeting with clients, Funeral Directors and Crematorium and Cemetery Staff as well as when conducting funerals. If unforeseen or emergency events dictate the Celebrant's late or non-attendance every effort is made to provide emergency cover.
Members will never cause, by their actions, the Institute to be brought into disrepute or in any way cause the reputation of the Institute to be damaged.
Members will not express any criticism of any other member, client or any person working within the funeral industry.
Members will respect the confidentiality of all information received in the course of their work and will treat clients and those working within the funeral industry with courtesy and respect.